Reservations and Informations
+420 777 591 900
+385 91 167 47 65
SKYPE fundiving.cz
ICQ:
148-258-277
info@murter.cz
Reservations online
Pavel Machula
Vytvořte si svou vlastní vizitku
.: CAPTAIN EXAMS:.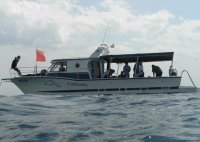 For ABSOLUTE BEGINNERS in sailing, we will procure (in Croatia) captain exams of the type "B".
Specifikace:
The graduate of the exams can lead a boat (yacht or a motorboat) with an outlet up to 20 BRT without limitation of the engines performance as far as 3 miles from the shore.
The issued certification is international and it is respected even by charter companies
The length of theory and the exams - 2 days. Bring 2 photos and a valid passport.
Teaching materials are included in the price.
Price 349 EUR
Im interesting in CAPTAIN EXAMS: