Reservations and Informations
+420 777 591 900
+385 91 167 47 65
SKYPE fundiving.cz
ICQ:
148-258-277
info@murter.cz
Reservations online
Pavel Machula
Vytvořte si svou vlastní vizitku
.: WELCOME :.
Czech diving base in Murter - Croatia (nearby NP Kornati)
Besides diving services, Czech center in Tisno also offers non-divers and their families opportunity to spend pleasant holidays by the Adriatic DURING THE WHOLE YEAR. We offer both voyages on the sea and trips on the land. The National park Kornati, possibly its part - the National park Telaštica - are beautiful localities, which surprise you not only by magnificent landscapes and bays. Due to the protection of the local nature there is quite a varied life under water, to which divers in Croatia almost ceased to be accustomed to ... Besides accommodation and ample offers of diving services, we offer programmes for non-divers as well, customized outdoor programs, ship excursions with fishing (on request also BIG GAME Fishing), tours of the surrounding monuments and parks and also for instance transports to the airport Split /Zadar, if you opt for easier travelling by plane. Our divers' pub with the Plzeň bear on tap cannot make up for real Czech ambience, however, our goal is that you feel yourself at home here ... We offer advantageous conditions for groups of divers or diving schools. We will be glad if you decide to visit our base, to choose some of our advantageous packages and we are looking toward to your visit. .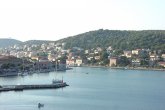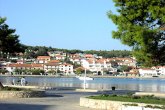 To avoid traffic peak on your way to Croatia, we offer you one-week stays in runs beginning on Sunday, or you can choose (by consent) ANY date that suits you!
Our travel agency will offer you accommodation according to the standard you desire (from a campsite to a luxury hotel).
Our diving ship (NIKA and STX Virgin) offer you possibility of choice of a diving trip according to your wishes.
On our base, you don't pay additional fees for an underwater guide (who helps you to find a position under the water and certainly gives you a greater feeling of comfort).
You can choose from the offer of morning diving trips – for example for divers-dads who will thus have more time for their families in the afternoons, or afternoon trips for night "beasts of prey" who don't like to get up in the morning... :-)